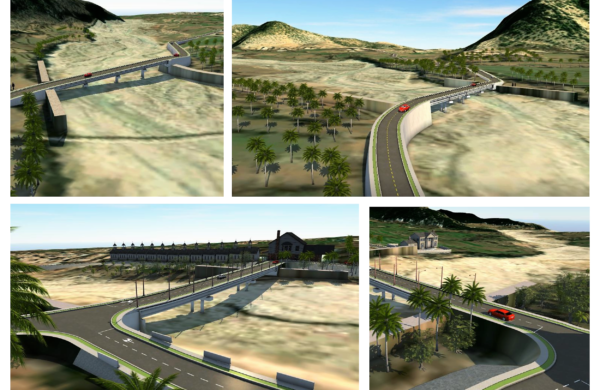 Synopsis
The project is a transformative initiative undertaken in collaboration with the Communication & Works Department Shangla. Project construction cost valued at Rs. 800 Million. The proposed project involves the construction of a vital RCC Bridge, spanning over the River Indus in Kabalgram Tehsil Martung, Shangla that will connect the communities of Koz Kabalgram, Bar Kabalgram, Sra Kolalai, and adjacent villages to Jubda and Torghar. Beyond enhancing connectivity, this project holds immense significance as it promotes social uplift and economic empowerment in the region.
Narrative Description of Project
The primary objective is to create an all-weather fair route, providing efficient access to Jubda and Torghar for the inhabitants of Koz Kabalgram, Bar Kabalgram, Sra Kolalai, and adjacent villages. Moreover, the bridge will integrate with the ongoing road construction project from Shangla to Torghar, augmenting the connectivity network in the region. This project's significance lies in its potential to uplift the socio-economic well-being of the local communities. By reducing travel distances and facilitating seamless mobility, the project empowers the residents economically, enabling access to essential services such as education, healthcare, and trade opportunities. The bridge will not only strengthen the existing road network but also lead to substantial savings in Vehicle Operating Costs (VOC) by eliminating detours.
Description of Actual Services Provided
The actual services provided during the project implementation included:
Detailed Design: Utilizing internationally recognized road construction standards like AASHTO and British Road Note No.31, our engineers meticulously designed the RCC Bridge to ensure optimal structural integrity and safety.
Comprehensive Surveys: Conducted thorough reconnaissance, topographic, and hydrological surveys, as well as soil investigations. These surveys provided crucial data and insights essential for informed decision-making during the design phase.
Geometric Studies: Meticulously planned the bridge layout to ensure smooth and safe travel for users, optimizing the road alignment for efficient connectivity.
Engineering Estimates: By providing detailed construction cost estimates, we facilitated accurate budget planning and cost evaluation for the successful execution of the project.

By offering these comprehensive services, SES played a crucial role in the successful delivery of the project. The completed bridge stands as a testament to the power of engineering excellence in fostering regional progress and uplifting the lives of the communities we serve in Shangla Tehsil Martung, Swat.